Reports & Publications
December 2022
The DQQ is a Valid Tool to Collect Population-Level Food Group Consumption Data
A Study Among Women in Ethiopia, Vietnam, and Solomon Islands
Download PDF
View Online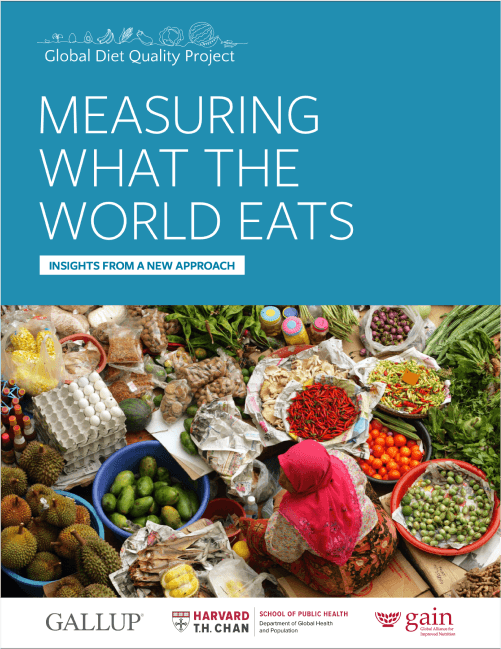 OCTOBER 2022
Brief: Measuring What the World Eats
Four Page Brief
Download PDF
Country Profiles
Insights from nationally representative DQQ data collected in 2021. Additional countries coming soon!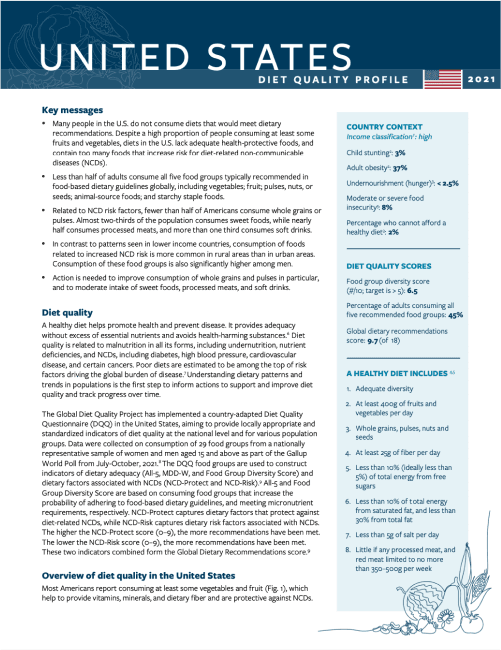 Other Publications
Uyar, B.T., Talsma, E.F., Herforth, A.W., Trijsburg, L.E., Vogliano, C., Pastori, G., Bekele, T.H. and Brouwer, I.D., 2022. The DQQ is a valid tool to collect population level food group consumption data: A study among women in Ethiopia, Viet Nam, and Solomon Islands. The Journal of Nutrition. https://doi.org/10.1016/j.tjnut.2022.12.014
Herforth, A.W., Wiesmann, D., Martinez-Steele, E., Andrade, G. and Monteiro, C.A., 2020. Introducing a suite of low-burden diet quality indicators that reflect healthy diet patterns at population level.Current Developments in Nutrition, 4(12), p.nzaa168. https://doi.org/10.1093/cdn/nzaa168
Ma. S., Herforth, A.W., Vogliano, C., Zou, Z. 2022. Most Commonly-Consumed Food Items by Food Group, and by Province, in China: Implications for Diet Quality Monitoring. Nutrients, 14(9), 1754. https://doi.org/10.3390/nu14091754
Wang, H., Herforth, A.W., Xi, B. and Zou, Z., 2022. Validation of the Diet Quality Questionnaire in Chinese Children and Adolescents and Relationship with Pediatric Overweight and Obesity. Nutrients, 14(17), p.3551. https://doi.org/10.3390/nu14173551
Manners, R., Adewopo, J., Niyibituronsa, M., Remans, R., Ghosh, A., Schut, M., Egoeh, S.G., Kilwendge, R., Fraenzel, A. 2022. Leveraging Digital Tools and Crowdsourcing Approaches to Generate High-Frequency Data for Diet Quality Monitoring at Population Scale in Rwanda. Frontiers in Sustainable Food Systems.https://doi.org/10.3389/fsufs.2021.804821
Herforth, A.W. 2016. Seeking Indicators of Healthy Diets. Washington, DC: Gallup.