Downloads
Resources
Use the following resources to conduct your own diet quality survey and analyze the results.
DQQ translated into the national language(s) and in English
IYCF DQQ: Companion questionnaire for infants and young children (age 6-23 months)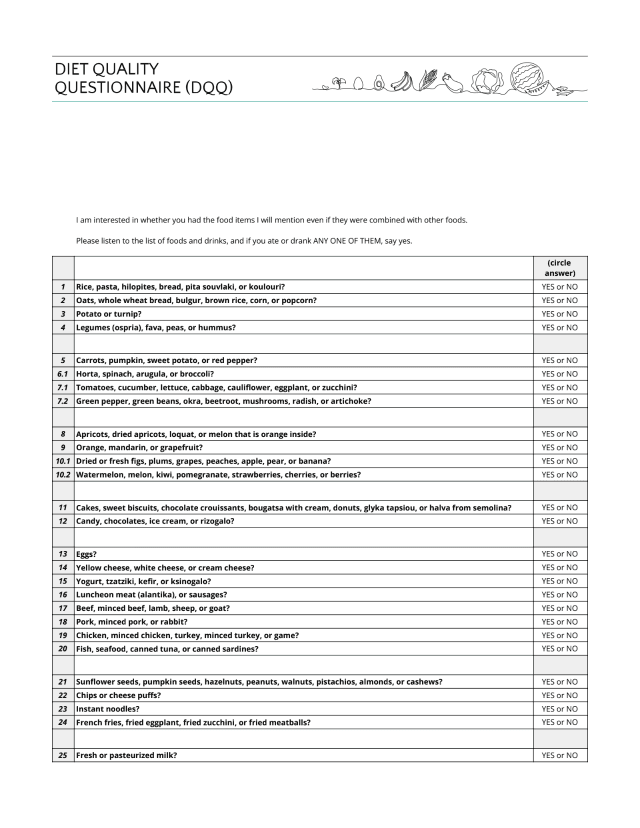 Tunisia
Recommended citation for use of the data: Global Diet Quality Project. DQQ for Tunisia. Accessed at dietquality.org.
Indicators
Data collected Aug 13 – Aug 28, 2022
Food group diversity score
At least one starchy staple food
At least one pulse, nut, or seed
At least one animal-source food
Zero vegetable or fruit consumption
At least one starchy staple food
At least one pulse, nut, or seed
Vitamin A-rich orange vegetables
Dark green leafy vegetables
Unprocessed red meat (ruminants)
Unprocessed red meat (non-ruminants)
Salty snacks, instant noodles, or fast food
Packaged ultra-processed salty snacks
Baked or grain-based sweets
Sugar-sweetened beverages
Sweet tea, coffee, or cocoa
Fruit juice and fruit drinks
% indicates percent of the population consuming in the previous day or night